About RichMakeGame (twitter: @@RichMakeGame)
Entries
| | | | |
| --- | --- | --- | --- |
| Ludum Dare 24 | Ludum Dare 23 | Ludum Dare 22 | Ludum Dare 21 |
RichMakeGame's Trophies
RichMakeGame's Archive
Fuuuu I'm tired. here's my game- it's my first time using unity, I switched from my ususal choice of quest3d this time. I would not be surprised if I've done a bunch of things which I shouldn't do.. I'm particularly worried about physics speeds and whatnot, but whatever. it's all learning, right?
link: http://www.ludumdare.com/compo/ludum-dare-23/?action=preview&uid=5541
post mortem to follow, too tired now! here's the pics:
All I've done is some fffriging music and code to throw some physics boxes around! faaaackkkk what am I doing??
Interesting theme.. very vague though! Was hoping for something with a little more direction.
I'll be using Stratus as a framework, source over here: www.redprodukt.com/GPC/Source_Stratus_quest3d.zip
tools: quest3d, photoshop, modo, +ipad with a bunch of apps for audio production and pixelling
really hope my new mic comes in the post tomorrow!
-rich
Howdy! I've made a small update spurred on by the success of Stratus in the graphics category, and 9th place overall (very happy right now, thanks to all who voted on my entry!) I can't wait for the next Dare :]
first of all, i thought I would still be able to edit my entry to add an 'after compo update' separate download, but the edit button appears to have vanished now the results are out :S. So I've edited the original zip- since the voting is over and the changes don't affect the actual game, I hope it won't be controversial.
here's what's changed:
- added some contact details to the beginning of the game
- added arrow key support and changed input to use keyboard codes, so the equivalent of wasd should work on non-qwerty keyboards (sorry it took so long to add this non-qwerty guys)
Thanks!
So enough time has passed since finishing that I can look back objectively over Stratus, found here: http://www.ludumdare.com/compo/ludum-dare-21/?action=preview&uid=5541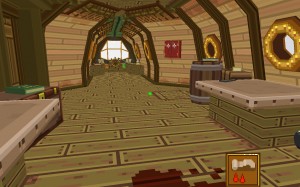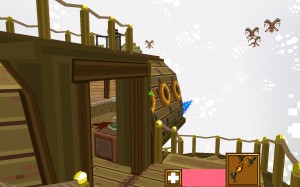 The game I initially envisaged is *roughly* what got made, but I had all sorts of ambitious ideas about minigames and complex interactions with the objects on board.. frankly the initial design was laughably ambitious, but hey I've never tried to make a game this quick
. But I kept the scope as far as the airship design is concerned, and poured a lot of effort into the design and execution of the ship. For me, the key thing for this game was the experience and atmosphere, and anything else came second- so I pressed ahead with the art and particle effects, and ditched some of the ambitious interaction mechanics.
what went right:
- the atmosphere I was trying to create, I think for the most part came together.. I really wanted you to feel the wind in your hair, high above the ground in a flying machine.
- the shooting sequence, while brief, I find enjoyable. I can play it a few times and be happy, so maybe I could have made it longer.. I really love making low-fi particle effects so the explosions were fun to make
what went wrong:
- probably having slightly too wide a scope for the concept left me really stuck for time to code the actual game and mechanics. I had to cut a bunch of ideas to finish the game which is always a shame
- sound, about the only sound effect I'm reasonably happy with is the wind, which was done by modulating the frequency of some pink noise. I really really wanted to devote some proper time to creating nice sound effects because they add so much to the atmosphere of the game, but unfortunately apart from the wind it's all sfxr (I still love sfxr.. but all games sound the same when they use it. and you can have really blocky graphics but if the sound gets a little extra love, it can really add to the experience)
-testing: I didn't get anyone to test my game, because I left it so late to get the mechanics in place. So, if there are some major bugs lurking then that's why!
overall, I hugely enjoyed the weekend, even the massive stress on sunday
This was my first compo, and I would definitely come back again. It's a great community here!
cheers,
-RichMakeGame
I decided to go with a design school which I'm not very familiar; experience based. I'm used to noodling around with squares until something fun happens, so this time I really wanted to focus on how it would feel to be in an airship being pursued by.. something. wind rushing through your hair..
In retrospect, a 48 hour comp might not be the best place to attempt an 'experience' game since they're really rather ethereal. It either clicks or it doesnt, and I think I got enough of what I wanted in there to be happy- but it was also very close to being a disaster.
excuse the rambling, it's 5am here.. night all!
edit: oh, game link:
http://www.ludumdare.com/compo/ludum-dare-21/?action=preview&uid=5541
here's the game now..
and here's my theme tune right now: watch?v=7mMRxkzxlwE
So, I decided to go completely against the advice and spent most of yesterday making art assets (and a collision mesh)
Aaaand I'm not finished them yet.. fingers crossed I can get the logic worked out quickly!