About AhNinniah (twitter: @AhNinniah)
We are team of two:
AhNinniah - art https://twitter.com/AhNinniah
devolonter - code & music https://twitter.com/devolonter
Entries
| | | |
| --- | --- | --- |
| Ludum Dare 25 | Ludum Dare 25 Warmup | Ludum Dare 22 |
AhNinniah's Trophies
AhNinniah's Archive
Idea
At some point, we have seriously decided to turn Super Mario Bros upside down and make a game called «Mario's Nightmare.» Goomba was going to be the main character, with Mario and Luigi as enemies. Trying to develop this idea further, we even started to play our NES (.. instead of making the game).
In the end, we chose one idea that we could implement in time. In the game we play as crazy professor. He had just made the discovery of his life. But because of the fear that someone could steal his discovery, the professor turns into an embittered sociopath. The player should help him to get rid of the pesky scientists who are eager to get the cherished formula.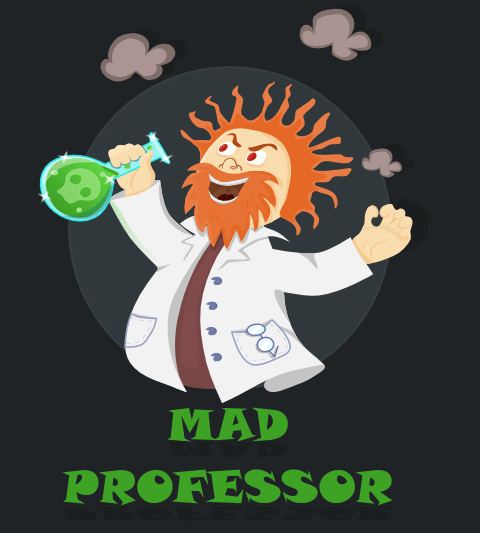 Development
Initially I spent too much time creating the main background. The size of the characters and animation were corrected during the final hours. And that, as expected, did not make the animation perfect — the main character runs as if he has a broken leg.
As for programming, at this time, we've decided to use a new approach. The prototype was written not with squares or rectangles, but with quite a real images taken from public sources. Later, it allowed us to save a lot of time on the sprites connection.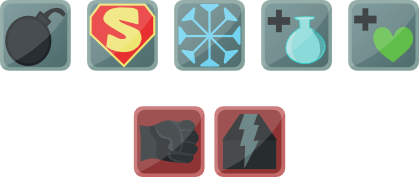 Music was written at night of the second day of development. Initially, the soundtrack was going to be funny and a little crazy. After several unsuccessful attempts, there was written a serious and heavy title theme about which we had some doubts. But as there has been spent too much time on the music, we decided to leave it as it is.
Unfortunately, we forget to add some game tutorial. And at first, many people could not understand how to play the game. They had to read description on the community page. We immediately tried to fix it by adding to the page with the game information about controls, game elements, etc. Also, we've added a gameplay video, the ending of which came out very funny.
Interesting Facts
— From the very start of theme voting, we tried not to discuss and not to see all the possible variants.
— Initially, enemies climbed the stairs to their full height, and then began to walk. But after adding animation, we realized that dancing Gangnam Style scientists — it is too much. We've cheated and made their appearance on the top as soon as they reached it. As it seems to us, it turned out not bad.
— We did not have time to do the death animation of enemies, so we decided to fill them with white and then make them disappear. Since we did not have time to implement our fill color programmatically, we decided to fill animation manually. And then simply replaced the image.
— The game score is incorrectly counted. You will get nothing for the bomb activation. All because we hung score increase at the wrong event.
— Due to a bug in the game, you can gather up to 4 flasks, although the maximum amount should not exceed 3.
— Despite the fact that falling bricks have its own formula of random correction, in most cases, brick falls on your head.
— Devolonter had to become a reference of the creeping up the stairs enemy, showing this action on the floor. Now he can not look at these characters calmly. Their animation has turned the most plausible.


We are very happy about that fact that we've finished and submitted our Jam entry! We failed last LD but managed this time.
Post about development will be later. Right now we just need to get a good sleep, I'm sure, as everyone else does.
Go check Mad Professor, if you like
Flash & HTML5 are available
P.S. Can't wait to play and rate all these amazing games created this weekend!
Also game mechanics, player and enemies behavior, simple physics are ready.
It's time to have a rest and go to sleep.
Hello! We are team of two: @devolonter and @AhNinniah. And we are very excited to take part in Ludum Dare 25!
What we will be using this time:
Graphics & Animation
— Inkscape
— GIMP
— Anime Studio Pro 9
Sounds & Music
— Guitar Pro
— sfxr
— Garage Band
— Audacity
Language
— Monkey (monkeycoder.co.nz)
Framework
— Flixel for Monkey (devolonter.github.com/flixel-monkey)
We took part in Warmup Weekend as well! Here is our small game, created in 36 hours — view entry
We wish everyone good luck and to have fun!
We didn't manage to complete the game on time. That's why we've just finished and released it today. The result is:
Codename E
Program the robot's behavior. Guide him through all the obstacles to the exit. Collect all of the modules to extend its functionality.
How to play
In the command input window (> _) sequentially enter commands to move the robot. The list of available commands appears in the RTFM. All commands have the following form – AAX, AA where two-letter command, X parameter of the function (from 1 to 9. Typically, the number of tiles to move).
For example, to move the robot forward for 5 tiles, enter MF5. Need to type all the commands to complete a level. Limit – 15 commands.
We used:
Programming Language: Monkey
Framework: Flixel for Monkey
Graphics editor: Inkscape
Level Editor: DAME
Sound editor: Bfxr
Music editor: GarageBand for iPad
After the competition the game has changed little. Bugs were fixed, interface was finalized and sounds were added.
You can play flash-version of the game here – http://lab.devolonter.ru/games/ld24/codename-e.html
What went wrong
- We spent a lot of time choosing the plot
- Even longer we were choosing visual style
- We didn't have enough experience working with tiles
- We were very tired
All graphics and sounds are ready. We only need to add some levels.
It's the end of our first day. We need to have a good rest in order to continue tomorrow. We'll leave here our progress screenshot. Still have a lot of things to do.. ooh!
Finally, we've got an idea! Now all we have to do is to implement it.
Never give up and good luck everyone!
Unfortunately, we had to miss LD #23 due to unexpected circumstances. Therefore, we can not wait to take part in LD #24!
That's what we will use to create a game:
Graphics: Inkscape
Sounds & Music: Guitar Pro, sfxr, Garage Band, Audacity
Language: Monkey (http://www.monkeycoder.co.nz/)
Framework: Flixel for Monkey (http://devolonter.github.com/flixel-monkey/)
See you at LD #24!
Some said that our game is very difficult to complete. So we've made this walkthrough video.
Yes, it is difficult. But that's all the fun!
P.S. We've made ​​twenty seven attempts before we recorded this video.
You can try Stand Alone by yourself.
Main idea: An astronaut finds himself all alone in boundless Space. He must reach his spaceship before it flies away.
Used: Inkscape, freesound.org, sfxr, Monkey, Paint.NET, Audacity
We were very excited to take part in our first LD and create our first ever game.
We tried to prepare for it as hard as we could. That's what we ate.
And that's where we have been creating «Stand Alone».
What went wrong:
Idea. From the very beginning we haven't worked enough on our game concept. Therefore, changes in the game have been made during the development.
Art. It takes as a lot of time to create art. More than we'd expected. We had to refuse some game objects due to lack of time to draw it.
Some art in progress.
Sound insertion. There were some bugs with sound in Monkey. It was very annoying.
Performance. Flash-version works not very well in browser. Have to deal with it later.
Time. We did not have enough time to add everything that we've planned.
Tiredness. Despite the huge amount of fluid, good nutrition and healthy sleep it was very difficult to concentrate on any task.
Despite this we managed to submit our game in time and got a lot of fun!
And we're going to finish and improve «Stand Alone» according our plans.
We've just submitted our game!
It was our first unforgettable experience and 3 very difficult days.
But we like the result. Now we can finally relax.
And then.. We can't wait for the next Jam!:)
Please rate and tell us what you think.
Thank you!