September 6th, 2012 6:54 pm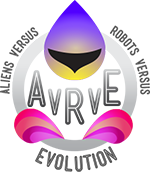 Play it HERE!
ZEIK
Zeik here, the code half of Cake&Code. This being our second Ludum Dare I had a vague idea of the kind of stuff we'd run into and knew that time was going to be unforgiving yet again. This time we did not do a warm-up game but I was messing around in flash days in advance to get back into fighting spirit!
What went right:
- I knew I was going to use Flash and had FlashDevelop all ready to go with a vanilla copy of FlashPunk at hand
- This time around I downloaded Chronolapse and it worked flawlessly to document the days
- We knew that we wanted some more unique music so we had a library of tools available before starting the jam this time
- Despite having work on Monday, we managed to finish at around 5:30am that morning
- Within the first hour or two we had a vision for a game, that vision became AvRvE
- Creating the isometric engine was not as difficult as it might have been, everything seemed to fall into place as I wrote it and extending it was easy enough
What went wrong:
- Though we learned last time that sounds take a lot of time to find/make/integrate we still ran out of time to find well-suited sounds to fill in the gaps in the game
- No tutorial level meant that the levels themselves had to ease players into the gameplay, this turned out to be a bigger challenge than I expected
- The preloader turned out to be a huge problem until I realized that by assigning a value to one of my main class's static variables from inside the preloader code I was forcing the load of all the assets before the preloader could display, after removing that assignment everything worked flawlessly
- Feature creep, as always, seemed to come from every direction; I built an overly robust level loading system, an interaction halting animation scheme, and was even planning on adding more items
What I learned:
- Sounds still take us forever to do, there have been no revolutionary advances since LD23
- Music is fun to edit, but takes forever just like sound editing does
- A weekend game jam is not the time to implement every feature that comes to mind
- Layering sprites for proper render order is not something to procrastinate on, get it done right and get it done as early as possible
Finally, I just wanted to extend a congratulations to all the participants! We've been rating your games and even though we've only scratched the surface it's already been a wild ride, full of great experiences. Pat yourselves on the back, then give each other high-fives! Hope to see you all next LD.
CAKE
Wow, FINALLY Zeik and I have the time to sit down and write our post-mortems. To be honest, it's been a crazy whirlwind of activity for me since LD#24 wrapped up, so neither of us have had the time to really sit down and work out our thoughts on AvRvE. Well now that I had a little more time to mull about it, I think it's about time I crunched out these thoughts!
What Went Right?
- I struggled to find the right art direction for this game. The initial mockups for the game looked a lot like Pow! Pow! Pow! until I decided to just go all out dark. It was colorful and had great visual impact, just as I intended it to.

- I'm a designer by nature, not a digital artist. This time around I actually had to sit down and draw all of our species out, as well as our character from different perspectives. For someone who typically doesnt do digital illustrations, I think I did alright.
- Having the multiple endings was fun! And I'm glad we went with a puzzle route this time around.
- I ate a lot better this weekend than I did the first LD we did. Granted, it still wasn't GOOD, but I went out of my way to actually prepare food more often than not. I snacked a bit much though.
What Went Wrong?
- I had company over for a chunk of the weekend. It really decreased my producitivity and I found myself having to multitask working, communicating with Zeik, and keeping my friend occupied.
- Despite the fact I'm really happy with out the game's aesthetic and look came out, I feel like it lacked the kind of detailing that Pow! Pow! Pow! had.
- Level designing was something I was already not great at. But designing puzzle levels? Yeesh. :\ Zeik took a hold of it for the most part.
- SCHOOL!!! Ludum Dare happened on the weekend right after school started. Seems like it'd be an easy workload right? NOPE. Grad school is kicking me in the butt and threw a lot of work my way. So I was even more busy that weekend than I wanted to be.
Things I Learned for the next LD:
- FREE UP MY WEEKEND. Make sure I don't have any work in the way and that I don't have any unexpected guests.

- Get BETTER food. I ate well this time, but there was a lot more room for healthier and energy-packed snacks. Also…less coffee plz.
- Do more art research and experiment with styles. I don't want to look like a one-tricky pony, so I'm going to experiment with more in-depth illustration styles.
And of course, congrats to those that finished!
Tags: SuccessStory