April 28th, 2012 5:39 am
Last weekend we (ghoulsblade, hagish & SiENcE) decided to participate on this 23 Ludum Dare event. We choose the jam, because we wanted to work togehter in a team. Maybe next time a solo compo!? We had an post-apocalyptic idea in mind but the final theme was "Tiny World".
LD23: started at 3am.
—————————
Apr 21 09:30:05
woke up at 7am
got my ipad
watched the theme
got scared
tiny 8-|
breakfast and desktop
Miranda -> IRC -> our privat channel -> moin ghoulsblade, hagish
theme: Tiny World
ops
tiny?
really?
yes.
lets think
do we have a git?
no
git init-db
tiled version?
o.8
ok!
lets start.
any ideas?
cockroaches/insects/bad mojo/ants/black&white/popolous/
what do you think of cockroaches, insects?
front yard scenario or dollhouse?
top-down graphic tiles?
nethack/rougelike?
roundbased or realtime?
random or handdrawn maps?
overlandmap or dungeon?
uhm.
ants and rougelike?
i dont see any gameplay
what about bite, lure, acid, …
ok.insects with abilities.
tunnels or overlandmap?
overland
ok.
topdown! it's easier to draw for me.
again: random generated map or handdrawn?
i prefer handdrawn.good random is difficult!
what about random enemies?
in jrpgs i hate this.but sure, they will hate us.
cellar.house.garden
ok.
collision?
pixelbased or tilebased?
what about collision layer in tiled?
good idea!
tilebased movement?
no.please free in all directions.
resolution?
320×200
tilesize: 32×32
map viewport?
640×400
*2 scaled
=1280×800
ok.
AFK
re.
testmap is in git
thx.
map is loading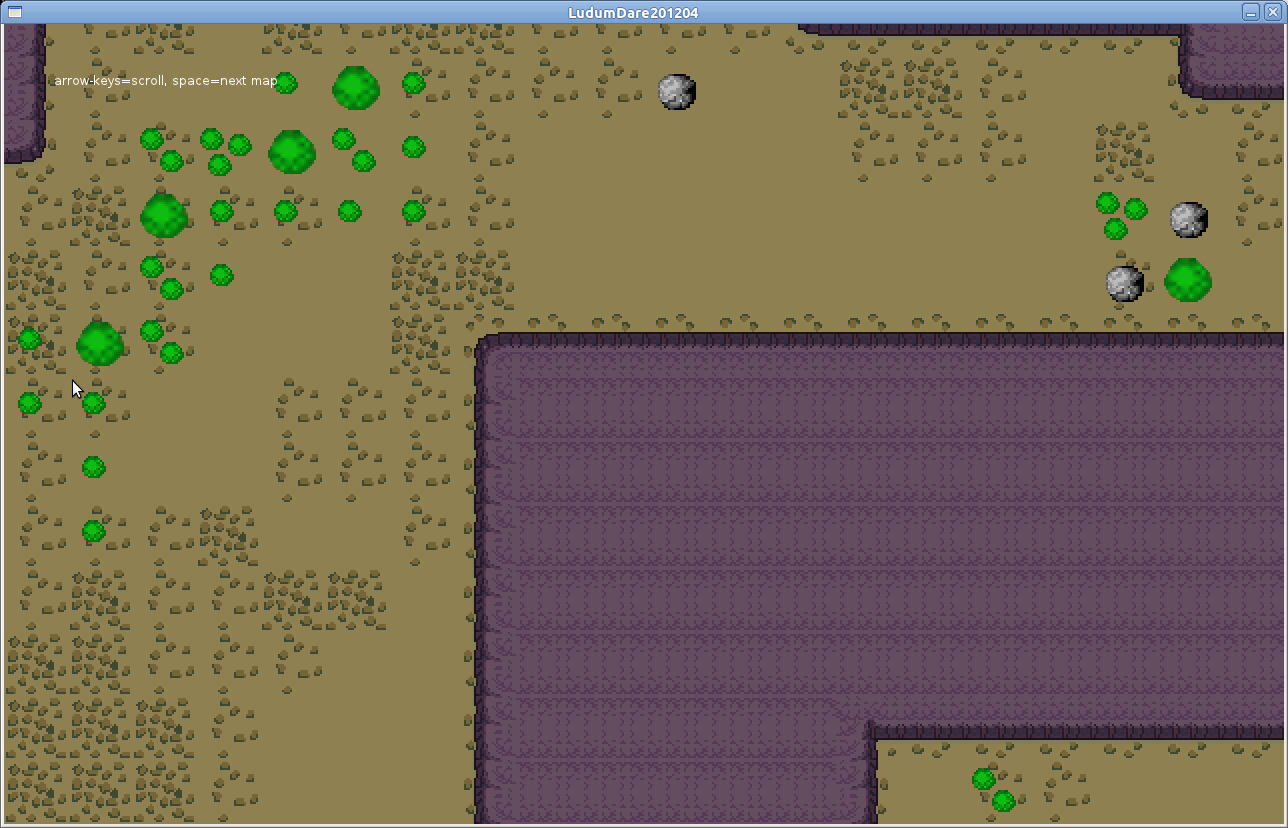 about gameplay?
hack&slay?
distance or melee combat?
melee
main char an Ant?
i dont know.
stag beetle / pill bug / spider?
what else is crawling on the ground?
maggots
Args.
no.
?
what about an shapeshifter?
here is my idea.
http://ghoulsblade.schattenkind.net/wiki/index.php/LudumDare201204#GAMEPLAY
yeah.now we have a compromise

lets draw something.
http://www.twiddla.com/820238
what color palette?
this one? 


ok.
i draw the ground stuff
and you the insects.
3-4 animation frames?
yes
the animation lib autodetects the horizontal framecount
oh nice.
my pc moans.reboot.
Python interface unloaded
Tcl interface unloaded
!?!
re.
.-)
supybot has joined
?
This command gives a useful description of what <command> does.
WTF?
please make all gfx powerof2
otherwise it wont run on old hardware (intel

what about an alien slime shapeshifter?
sounds great!
alien slime and ant animation is up
git pull
nice.
name the collision layer "COLLISION"
and items "items"?
do we need items?
no.
k.
del
initial big map is up
home_sweet_home.tmx
120×120 tiles
this is huge
you can now switch f1=slime f2=ant
we need water tiles
because now i have sandpiper
wait i'm currently writing a LD blogpost
k.
working title?
"waterlily"?
Apache Ant
Happy ANT
http://www.ludumdare.com/compo/2012/04/21/happy-ant/
happy ant is good

we need a layer behind the player
ants now hunting the player alien slime
great process
here is a mockup: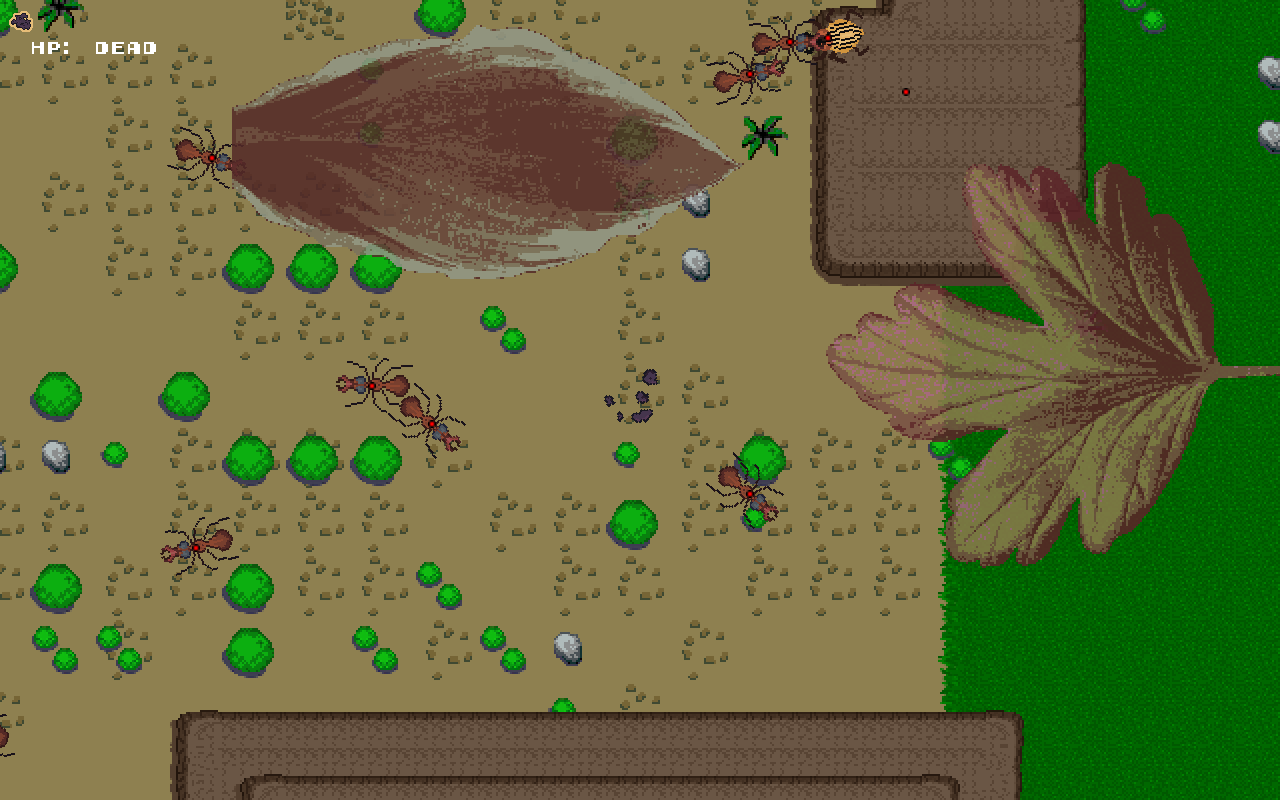 alternative: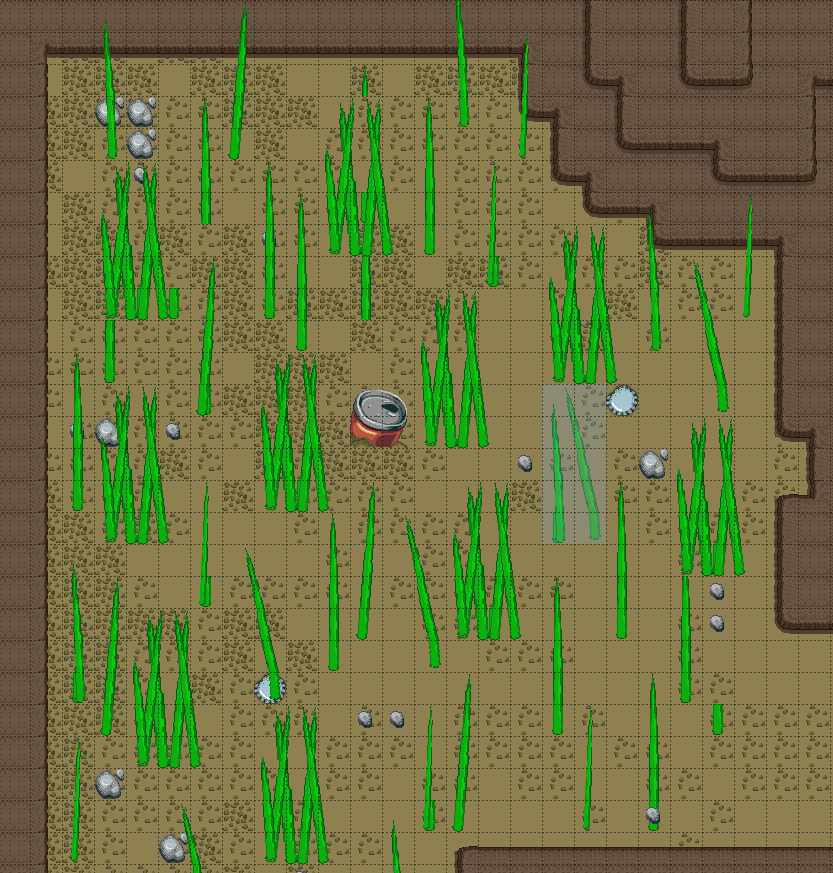 bedtime (Apr 22 01:34:00)
—————————
Apr 22 11:35:16
morgen
moin ghoul.
moin SiENcE
i'm currently integrating your grass
love2d-webplayer runs

great
can you test chrome?
it runs in chrome very well

thx.
shape switching keys 1-9?
sounds good.
what about the action button?
btw.  game name: ANThology ?


TESound is working.
during breakfast i did a garageband track.
so ingame music is working.
what about soundfx?
later.
k.
respawning works.
healing also
writing the README
with some gameplay hints
in principle it's an relatively linear puzzel/action game
with exploration components
we need an alien space ship
oh yes! i forgot.
i have to go.
for a walk in the park with my girlfriend.
uhm.

…
…
the ladybugs are too aggro
yep. changing it.
i'm doing the titlescreen.
oh great.
i need ogg for the music.
it's up.
thx.
i'm for supper.
i did it.
what? first time beating the game.
it needs polish.
sure.
we have all time in the world

next blogpost is up: http://www.ludumdare.com/compo/2012/04/22/ant-hology-happy-ant/
i go to bed. cya
cya (Apr 23 00:15:51)
—————————
Monday…is working day
Apr 23 20:19:29
hy.
hi all.
we already testing the release script.
here are some nameing ideas: http://pastebin.com/AJMzqWsn
gardenshape *lol
we can take slime-a-bug
silme.a.bug?
SlimeABug
ok.
does the resolution fit?
scaling of 2
oh it's smooth
we need the nearest filter applied
only a windows release for now?
win and source.
later macosx and webplayer
ok.
we need a schattenkind.net account.
ok.i'm creating one.
Entry is up

oh well done!
Apr 23 23:52:13 <SiENcE> made me happy!
good night @all
thanks!
Apr 23 23:53:24 * SiENcE has quit

play.rate.here
hope you enjoy it!
have fun.
cheers
SiENcE